RECOGNITION OF ELEVATED VERSATILITY WITH AWS IOT CORE
Versatility is crucial for the success of any IoT device. Without it, limited functionality and compatibility issues arise, dooming them to fail. Luckily, this risk is no way near the case with Teltonika Networks devices, as this recent recognition by AWS proves. 
Each of our clients' solutions is unique. No matter the industry, niche, or geographical region, the problems that each IoT solution addresses require some degree of hardware or software adaptability of their components. Otherwise, necessary functionality, performance, and reliability are just a promise, not a guarantee. 
ASSURED WAVES OF CLOUDS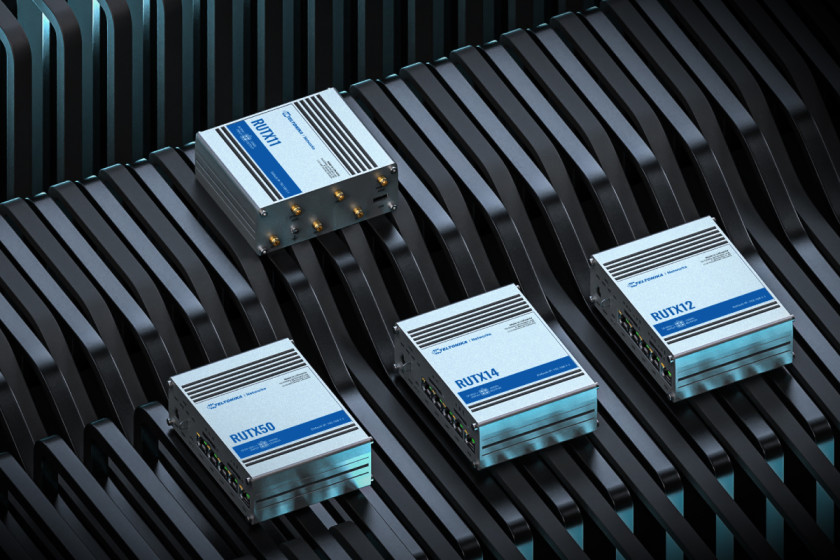 As the range of applications for our devices continues to expand, ensuring their compatibility with 3rd party IoT platforms is something we constantly work on. And there's nothing better than seeing our efforts receive the acknowledgment it deserves. With this in mind, we're very excited to announce that four of our RUTX series devices – RUTX11, RUTX12, RUTX14, and RUTX50 – are now approved by Amazon Web Services (AWS) as devices that support the AWS IoT Core cloud platform. These devices can now be found on the AWS device catalog! 
While all our routers and gateways have been compatible with the AWS IoT Core cloud platform for some time now, receiving official recognition of this compatibility from AWS itself is a significant achievement. This is because it further confirms our credibility as innovators, aiming to transform the IoT world. The process to become an official partner of AWS and their IoT Core platform involves rigorous qualification tests and proceedings, all designed to showcase our skills and experience. And we're proud of our technical proficiency that successfully navigated this rigorous process. 
THE VALUE OF IoT CORE CLOUD 
Behind the compatibility of our devices on the IoT Core platform lies a greater vision of device adaptability to our clients' needs and superiority over the market of networking devices. By using this cloud platform with our routers and gateways, you attain control over the Message Broker service. This service enables you to manage message traffic while keeping you assured of the security and efficiency behind the communication between devices and the IoT Core cloud platform. It's a great choice for those seeking to collect data from devices and manage them remotely using the MQTT communication protocol. 
Teltonika Networks personnel who managed the process of achieving AWS recognition have stated that the biggest takeaway from this process was seeing the reliability of the AWS IoT Core platform. Throughout the testing phase of the Message Broker service, the cloud system demonstrated persistent attempts to dispatch messages in instances where initial attempts were unsuccessful. This was to ensure device security and the guaranteed reception of messages. 
WHAT THE FUTURE HOLDS 
We're currently in the process of receiving AWS's recognition for the rest of our routers and gateways' compatibility with the IoT Core cloud platform. This is an important milestone in our roadmap. It reflects one of our primary goals – to provide our clients with devices that offer the highest level of flexibility and versatility that meet their solution needs. Moreover, it demonstrates our commitment to continuously enhance the adaptability of our devices, particularly in terms of support for 3rd party IoT platforms. 
LIKE THIS STORY?
Share it with friends!
GOT A QUESTION?
We're here to help!