RMS 4.0: NEW FEATURES & UI UPDATES
As remote IoT solutions are becoming increasingly relevant with each day, a good remote management platform must stay up to date and deliver on its clients' dynamic needs. This is why our Remote Management System (RMS) received an important update this past week: version 4.0. The update does not change RMS in any drastic way, so all the value you're used to getting is still there. But there are also new features and quality-of-life changes we've implemented for you, so let's go over the main ones!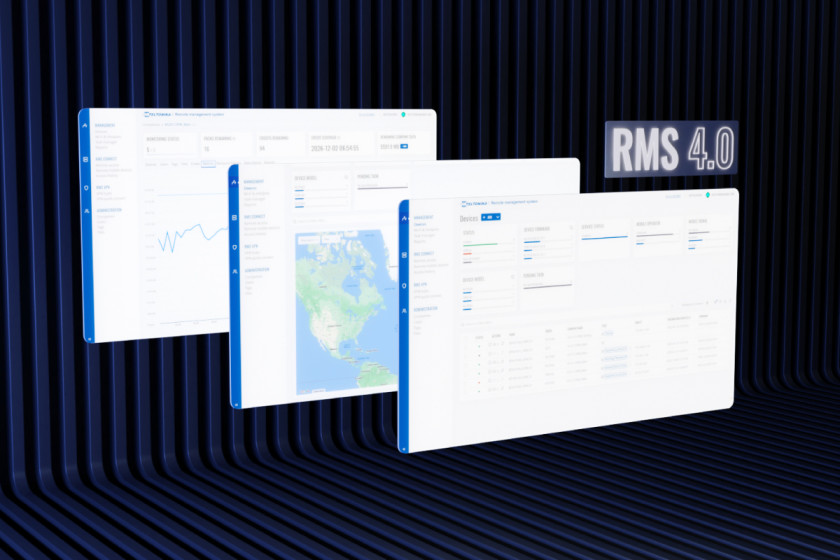 New Features
At Teltonika Networks, we believe there is always room for improvement. RMS is no exception. Here's some of the extra value you're getting with RMS 4.0:
Multi-config: This new and exciting feature lets you configure individual Teltonika Networks device parameters directly via RMS, without needing to access the device's WebUI. This is a huge upgrade on how device parameter configuration used to work. Previously, all changes had to be implemented as an entire set with backup uploads. With RMS 4.0, the individual elements you personally want to change can be easily changed without affecting any other elements. Multi-config also provides a list of suggested parameters whenever you start typing their name when searching, and identifies and reports pushed configuration errors directly to you for analysis. Please note that Multi-config is only compatible with devices running firmware version 7.3 or up.
Custom templates: With multi-config you can now create custom device configuration templates, ensuring that the exact same changes are quickly and easily applied to selected and future devices. Apart from greatly simplifying configuration, it also makes migration from older to newer devices easier, even if the devices are of a different model.
Device recognition and secure parameters uploading: When migrating from one device to another, using Multi-config, RMS will recognize interchangeable, compatible, and incompatible parameters of the new device and will not attempt to configure unsupported features. For example, it will not attempt to configure Wi-Fi parameters for RUTX09.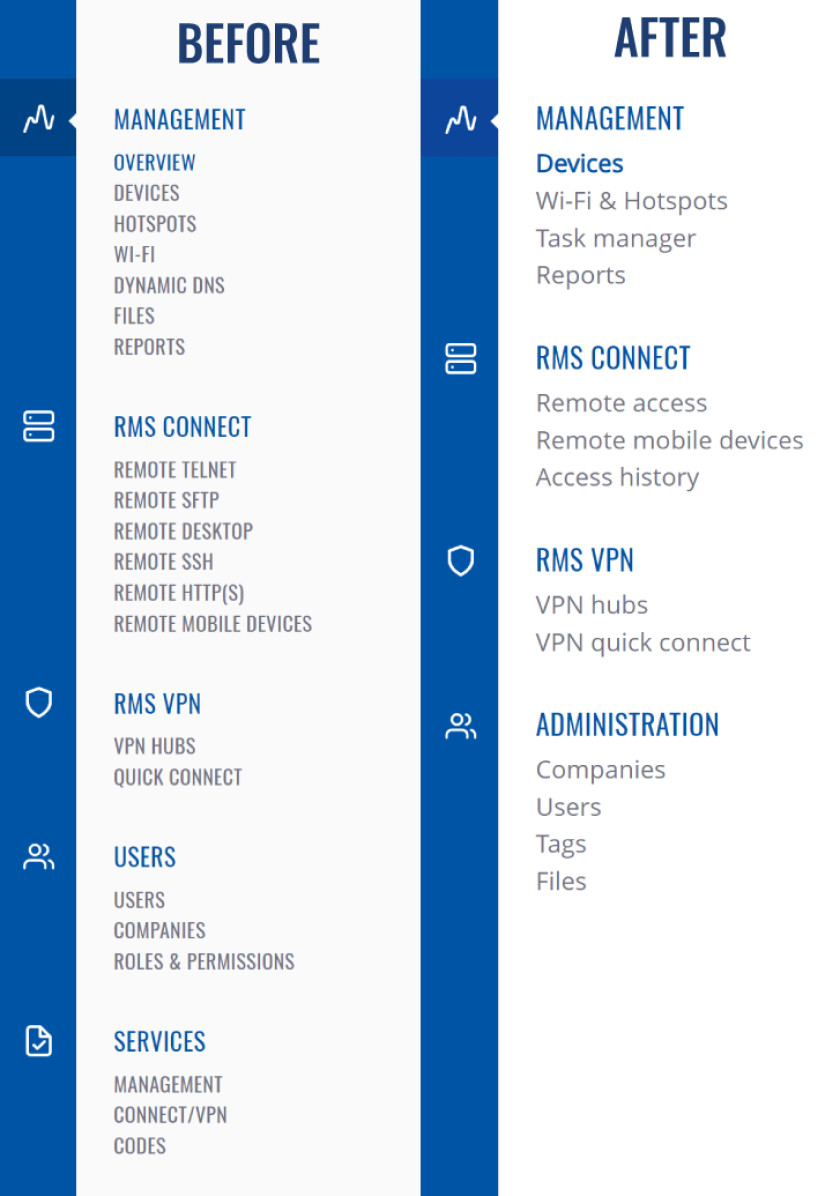 UI Updates
User interface is all about streamlining your experience and making things more intuitive to work with. You can find the full list of UI updates on our Wiki, but here are the main ones you should know:
Enhanced filtering: the filtering tab, where you can easily add, change, or remove filtering parameters, is now available at the top of the device's window. The filtering itself isn't changing – we're just reducing the number of clicks involved and giving you more control over the parameters you want easier access to.
RMS Connect protocol menus: Previously, RMS Connect had separate sub-menus for each protocol. With this update, the HTTP(S), SSH, Telnet, and SFTP protocols, as well as Remote Desktop, are now available in a single sub-menu: Remote Access. They can also be filtered inside sub-menus. The only one that keeps its own menu is Remote mobile devices.
Centralized administration. Management of your devices, users, tags, files, codes, and more was previously spread across different menus. With RMS 4.0, they are now in a single location: Administration.
LIKE THIS STORY?
Share it with friends!