MEET OUR FIRST-EVER LTE CAT12 DEVICE!
Per Juniper Research, 46 billion IoT devices will be connected to the internet by the end of 2021. This is a 200% increase from 2016. They are all using various methods to connect, but cellular is growing in popularity in recent years. The main drivers include extensive coverage, multiple subcategories to suit different needs, and remote management capabilities.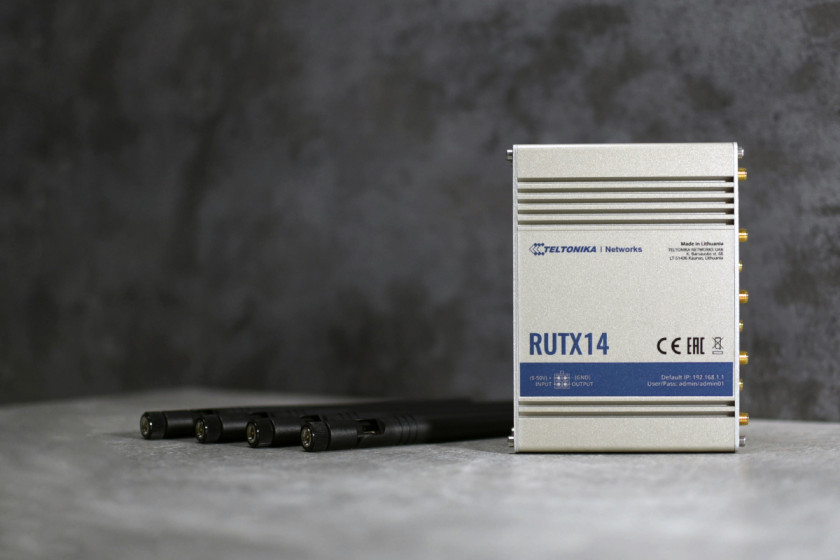 By Statista predictions, the IoT data usage will reach around 80 zettabytes by 2025. While the data consumption rates differ by industry segment and device, there is a noticeable trend of an increasing need for higher data throughput and speed.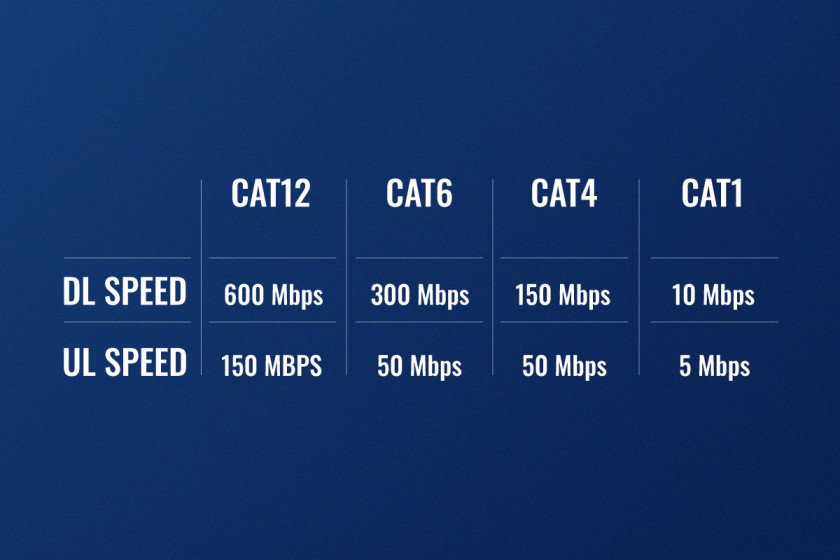 FIRST IN LTE CAT12 CATEGORY
To this day, our portfolio featured products in different LTE and LTE-A categories: Cat M1, NB IoT, Cat1, Cat4, and Cat6. Each has benefits and specific application scenarios, depending on how much speed and throughput a particular solution requires. Each category comes with an increase in speed and bandwidth rates, so the newly added RUTX14 LTE-A Cat12 dual SIM cellular router in our product selection will satisfy the requirements of the neediest applications. This newest member of the most potent RUTX series routers in the Teltonika Networks range will enable double the download and triple the upload speeds with next-generation features like Carrier Aggregation and Load Balancing. As a result, you will enjoy a lightning-speed connection of up to 600 Mbps for downloads and up to 150 Mbps for uploads.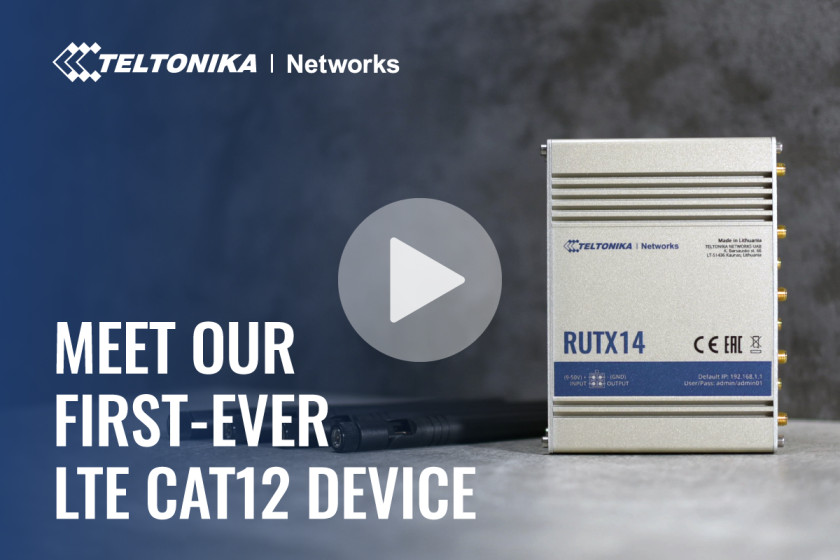 UNLIMITED WIRELESS CONNECTIONS
Besides cellular connectivity, this industrial-grade router has much more to offer. Wave-2 802.11ac Dual-Band Wi-Fi allows up to 150 simultaneous connections and a wireless hotspot functionality with a built-in customizable landing page, which can find plenty of use cases including transportation, enterprise, retail, and HoReCa sectors. The high performance for smooth communication and top-level security of the network is also ensured by advanced RutOS features, like VPN, Firewall, and Web Filter.
Bluetooth 4.0 low energy connectivity is a perfect and safe choice for short-range communication. RUTX14 allows connecting up to 200 various sensors to collect data and monitor humidity, temperature, proximity, and other valuable metrics. This technology enables tracking events happening at an exact location and time and preventing any considerable losses by rectifying the situation efficiently.
WIRED CONNECTIVITY
Five Gigabit Ethernet ports with 4 LAN and one WAN port, which is also configurable as a LAN, are perfect for high-speed and bandwidth-hungry communication scenarios. Even better – did you know that you can set up our X series routers, including RUTX14, for multi-WAN operations? It means that you can combine the throughput of multiple wired and wireless WAN links – an advanced functionality usually found in devices typically costing way more than Teltonika Networks' price range.
USB 2.0 is another excellent wired asset enabling an economical and straightforward USB-to-serial connection for RS232 or RS485 devices. It also provides an option to add an external HDD, additional modem, flash drive, which would result in increased memory, speed, or performance. Extra storage combined with DLNA opens up possibilities for compelling use cases with content sharing and swift delivery over the network.
PHYSICAL PROPERTIES
Just like other industrial-grade routers in our portfolio, RUTX14 comes in a durable aluminum housing. It is a relatively small device in its range and weighs just 515 grams, making it easy to install by using available DIN rail or surface mounting options. Combined with a broad operating temperature of -40 C to 75 C and humidity levels of 10 % to 90 % makes it an easily applicable device in multiple scenarios across a variety of industries. We have prepared a couple of possible use cases to help you get an idea of what this product is all about.
We made sure our clients get everything they need to get started with our product and enjoy enhanced network capabilities right away. Therefore we included eight antennas in the package (4 for LTE, 2 for WiFi, 1 for Bluetooth, and 1 for GNNS). We also added a PSU, an Ethernet cable, a SIM adapter kit, and even a grounding screw to the mix to ensure nothing is missing to move forward. Check out our Quick Start Guide for more details.
LIKE THIS STORY?
Share it with friends!
GOT A QUESTION?
We're here to help!