WE HAVE IMPROVED RUTOS WITH NEW FEATURES!
We keep on saying this, and we cannot stress this enough, how important it is for us to keep on improving and adding value to our software based on the feedback we get from our clients. We invite you to have a look at what we have been working on lately and how these new functionalities can ease up your daily business activities and generally make your life more convenient. This time we have added some new exciting features to RutOS that will mainly affect RUTX and TRB2 series devices.
DLNA
We have improved the Digital Living Network Alliance (DLNA) for RUTX family routers by adding media service to the package manager. It means that now you can stream your content from the local storage directly to digital signage outlets, TVs or other DLNA-capable devices, even when they do not have a media player installed.
This feature was requested by one of our clients to be used for advertising in kiosks. The router streams the same ads straight to digital signage screens in hundreds of locations without the need to purchase any additional software.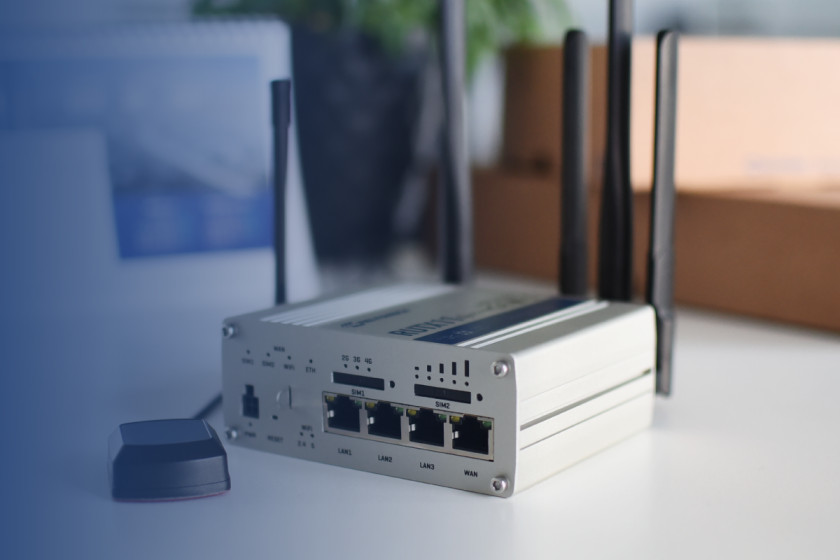 New USB Tools
Now you may expand the flash memory of your RUTX family routers via USB mass storage device. This may come in handy if you wish to add additional programming languages. Some of our clients wish to use their own applications, which we do not normally support, and they need additional flash memory to be able to install them. This functionality does not only provide extra space for the content, but it virtually expands the flash memory of the device.
Another great feature you will be able to enjoy on RUTX devices is the support of externally attachable USB to Serial adapter. Now you may convert USB data signals to industrial RS232 and RS485 serial data even if the router originally does not support this functionality. One of our top-selling routers – RUT955 – is so popular because it has a wide range of compatible interfaces. While our clients appreciated the speed and performance of the RUTX devices, they could not connect them to the legacy devices via RS232/485 interfaces and having this new functionality will open a wide aray of new possibilities for the application of RUTX family routers.
USSD Support
With the new firmware update, our cellular routers support Unstructured Supplementary Service Data (USSD). It is a protocol meant for communication between cellular devices and mobile network operators, usually used with prepaid SIM cards to enable or disable certain services or to obtain information from a network operator. It may come in handy for checking your account balance, data charges and menu-based information services, like IMEI number and changing pin codes.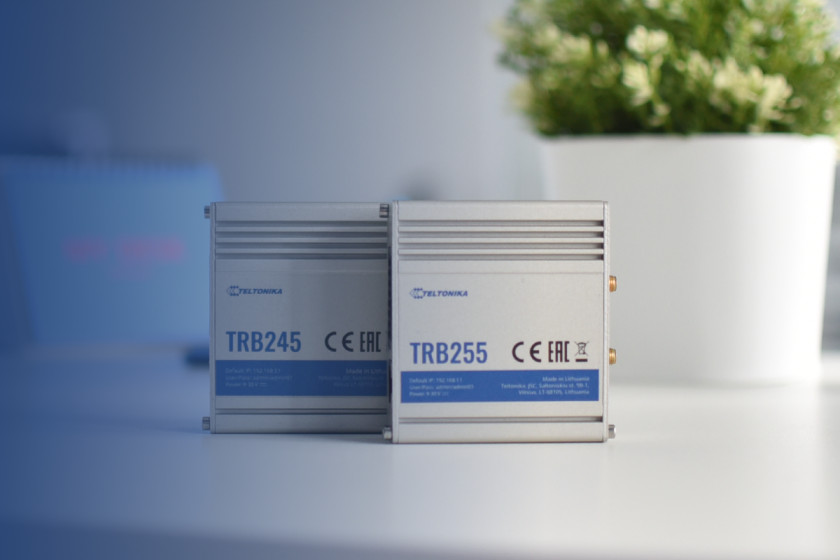 Additional VPN services
Protecting online privacy and maintaining data security has always been at the top of our priority list. We have expanded VPN services offering for TRB2 family gateways by adding highly-reliable and widely recognized Stunnel, SSTP and DMVPN options.
Stunnel is an open-source a proxy service that adds TLS encryption to clients and servers already existing on a VPN network. TLS encryption provided by Stunnel can be used as an additional layer of encryption for data sent by VPN. This procedure increases the security of the established connection and provides higher chances of passing a Deep packet inspection (DPI) check.
Secure Socket Tunneling Protocol (SSTP) is a VPN protocol designed to transport PPP traffic via a secure SSL/TLS channel. Although it is meant mainly for Windows, it can be used with other operating systems too. It creates a single HTTPS tunnel from client to server and keepts the traffic encrypted at all times.
DMVPN allows branch locations to communicate directly with each other over the public WAN or Internet, such as when using voice over IP (VOIP) between two branch offices, but doesn't require a permanent VPN connection between sites. It enables zero-touch deployment of IPsec VPNs and improves network performance by reducing latency and jitter, while optimizing head office bandwidth utilization.
Time Synchronization
Historically, Teltonika Networks routers used Network Time Protocol (NTP) for clock synchronization between computer systems over packet-switched, variable-latency data networks. In RutOS, the users are provided with four default time servers, but custom ones can be added too, as per the clients' needs. Our products may act as both: NTP Client and NTP Server, meaning that they are also capable of providing clock synchronization to the other devices in the network. From now on this feature will be also available to TRB2 series gateways.
This is a very important feature for clients who are using limited data plans. For example, one of our clients in the transportation sector had a problem when they were reaching the data limits for the month and therefore turning off the devices to avoid extra charges, after turning them back on – the gateways could not detect the time. Now that they can synchronize time via GPS and via operator, there is no need to use data to achieve this task.
WiFi Scanner
WiFi Scanner allows to detect and send nearby non sensitive WiFi devices data. This enables to measure the number of nearby devices using WiFi and send the data to the server. This provides information on the distribution of wireless networks and choose the best option based on availability and better connection speed.
One of the application scenarios is event management. The organizer gets the coordinates from the router where the people gather and efficiently allocates the staff into relevant sectors.
All these features will be available to the specified devices only with the new firmware RUTX_R_00.02.05.1. You may download it from our RutOS Firmware Download page.
LIKE THIS STORY?
Share it with friends!