OVERCOME SPACE LIMITATIONS WITH TSW304
Reliable network connectivity can be considered the backbone of the IoT industry, but it's no secret that its support devices can face obstacles related to limited installation options in non-standard spaces or surfaces. While these difficulties can be solved by adding additional accessories to the solution, wouldn't it be nicer to have a device that was explicitly built with easy installation in mind?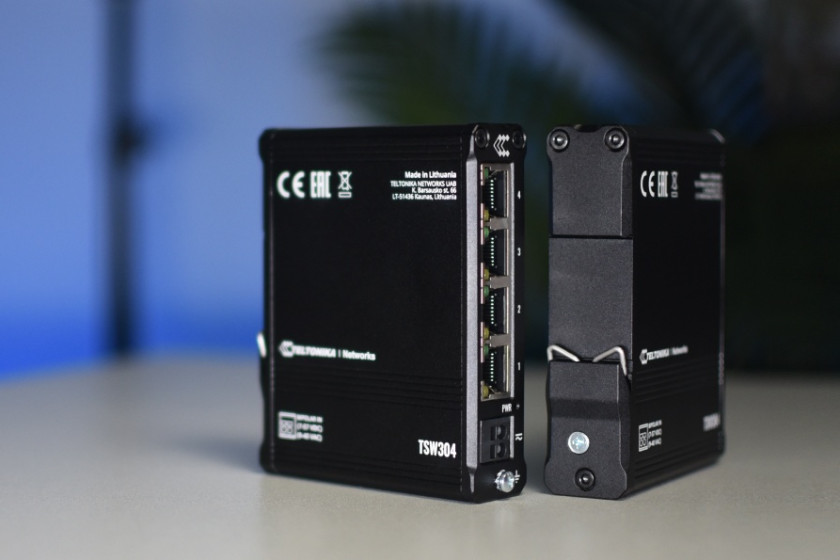 Similar to cats seamlessly squeezing into tiny spaces, our new TSW304 switch is the perfect match for any solution that requires reliable network connectivity support but is limited by constrained space.
ANY-SURFACE-FRIENDLY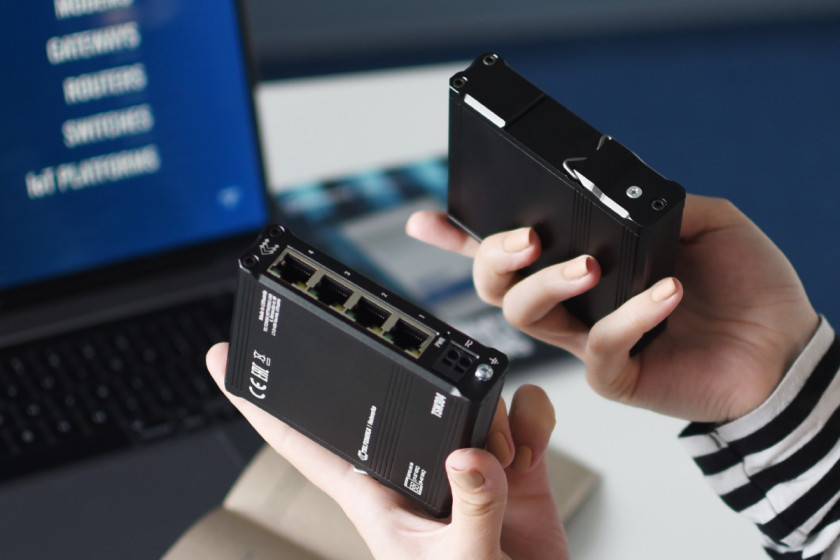 The TSW304 is our smallest unmanaged switch yet, opening up a ton of possibilities for switch applications. Its dimensions (102 x 25 x 81.5 mm) make it compact and easily integrable in environments that lack additional space. In addition, its front-facing ports allow plugging all wires from a single side, so if your solution needs more than four Ethernet ports, you can easily place a few switches next to each other.

You've probably already noticed that silver detail on the opposite side of the ports, and to be fair, we did keep the best design feature of the TSW304 for last. Like a cherry on top of the cake! The TSW304 is our first-ever device with a built-in DIN rail mount! This feature elevates the TSW304 switch to a whole new level of easy installation, even in the most intricate of places.

The TSW304's reliable network support and unique design features, like its tiny size, front-facing ports, and integrated DIN rail mount mean that both device installation and network support will be guaranteed.
GRACEFUL SIMPLICITY
Like our other current switches, the TSW304 is what you could call a plug-n-play solution. It doesn't require any manual configuration or particular know-how to do its job. Therefore, its installation process won't get confusing or complicated. Since the TSW304 switch has four Gigabit Ethernet ports, all of which guarantee heavy data throughput, the device can be a highly reliable choice for network support, providing a strong network connection to all connected devices at once.
THE PROBLEM-SOLVING TSW304 SWITCH IN ACTION
As a professor of law, Harold Anthony Lloyd once said: "theory without practice is empty; practice without theory is blind." We agree with this statement entirely, so presented here are the two use cases showcasing how this TSW304 solves the network connectivity support question in not-so-usual scenarios: an ice cream factory and a 3D printing system. Both manufacturing systems required network connectivity support, but shared the same issue – having very limited space for a device that would provide it.
WANT TO LEARN MORE?
LIKE THIS STORY?
Share it with friends!
GOT A QUESTION?
We're here to help!