RUTM50: THE NEW 5G ROUTER FOR NORTH AMERICA
The future of the North American IoT market is 5G. As the adoption of this technology continues to grow from millions of connections to billions, engineers creating networking solutions with future-proofing in mind cannot afford to stay behind once the twilight of the 4G era finally arrives.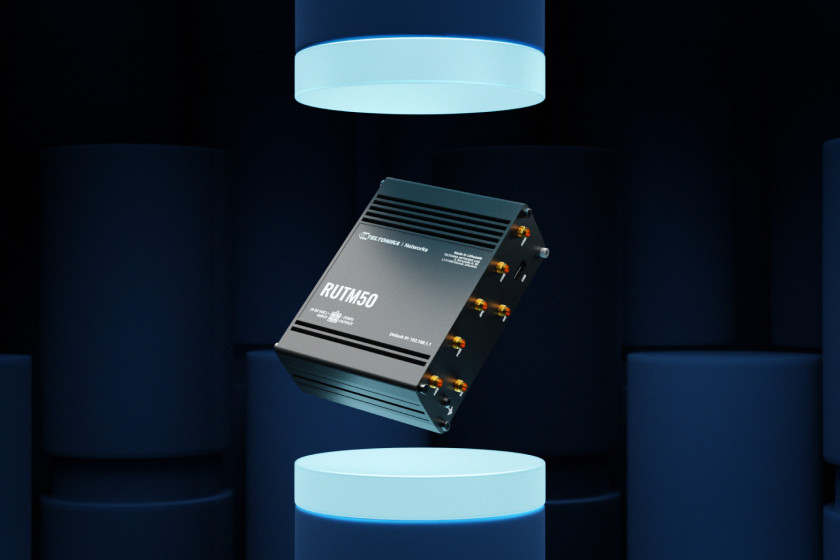 When we speak of 5G IoT, we speak of speed and power. Speed is counted as multiple Gbps and power in the form of single-digit latency. In other words, feats that no LTE category can achieve, but that new and emerging technologies do require.
In essence, it all comes down to the choice of networking device, like a cellular router. A wise investment in a 5G router secures lasting utility and relevancy into the future of your IoT solution. This isn't to say that 4G devices have no place in the market – they certainly do, but their lifespan is limited and the clock is ever-ticking.
Today, Teltonika Networks is proud to introduce the latest addition to its product portfolio and its first 5G cellular router certified by both the Federal Communications Commission (FCC) and PCS Type Certification Review Board (PTCRB), competitively-priced for the North American market: the RUTM50.
Under the 5G router hood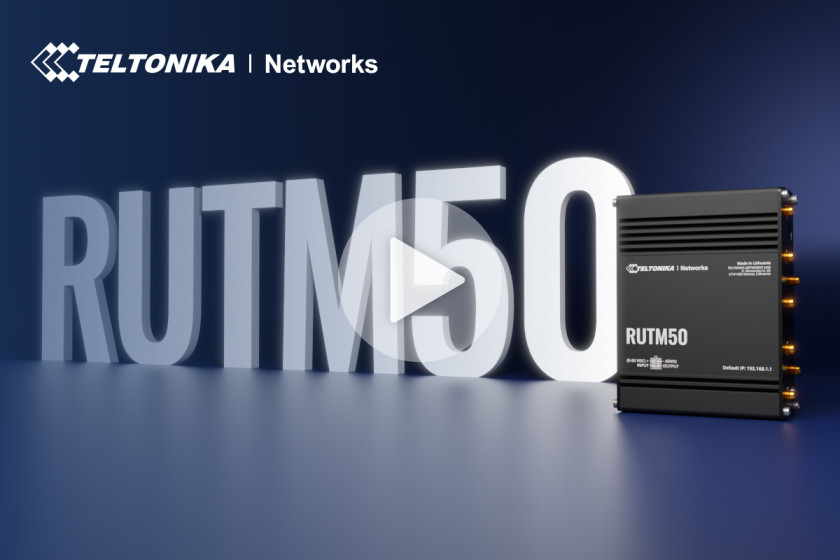 The RUTM50 is a prime example of why the 5G vs. LTE debate is one where there is no doubt about the winner. This 5G router brings with it ultra-high cellular speeds of up to 3.4 Gbps with single-digit latency. For comparison, the popular choice of LTE Cat 4 caps at 150 Mbps and the high-performance choice of Cat 6 caps at 300 Mbps. When your networking solution requires utmost precision, those simply don't cut it.
This high throughput is transmitted with the Wi-Fi 5 standard (802.11b, g, n, ac Wave 2). This is important for networking solutions involving M2M communication that cannot afford delays, such as remote-controlled equipment like drones or construction vehicles, or solutions installed in outdoor or remote environments where any connectivity is a challenge in and of itself.
However, speed is irrelevant if the connection itself is unreliable, which is why ensuring uninterrupted connectivity is always a high priority. The RUTM50 5G router comes with dual SIM slots, an auto-failover feature, backup WAN, and multiple other switching scenarios.
These help prevent connection loss by automatically switching to an alternative connection if need be. The signal itself can be enhanced by using a dedicated 5G antenna, such as our 5G MIMO antenna. And on the off-chance that a 5G signal becomes unavailable, this cellular router is backward-compatible with LTE Cat 19. This will maintain your network's high speed and throughput even in the absence of 5G coverage.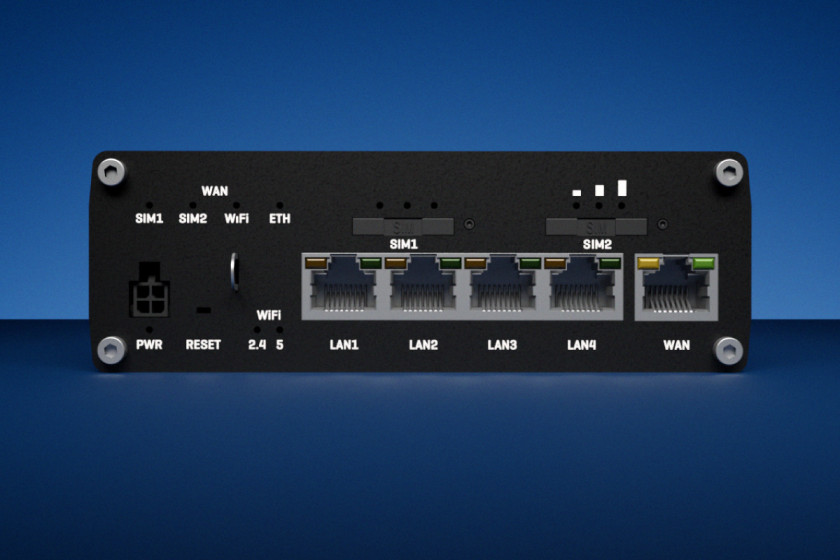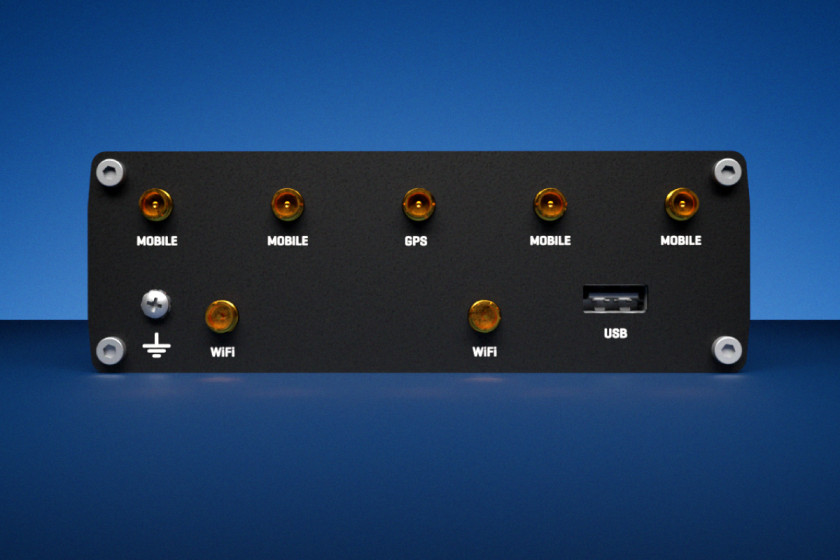 In terms of protocol support, the RUTM50 5G cellular router prides itself on versatility. Supported industrial protocols include MQTT, Modbus, DNP3, OPC UA, Bacnet, and many others. This 5G router also supports NTRIP, which allows for higher precision of location tracking data using its GNSS support, including GPS, GLONASS, BeiDou, Galileo, and QZSS.
The RUTM50 also has quite a few interfaces. Included among them are 5 Ethernet (RJ45) ports, 1 digital input, 1 digital output on a 4-pin power connector, and 1 USB-A port. The device itself is very compact, measuring 132 x 44.2 x 95.1 mm. It can be easily installed on a DIN rail that can be mounted on either side of the 5G router. The RUTM50 is housed in a sturdy aluminium casing capable of withstanding rough industrial environments, as well as extreme temperatures ranging from -40 °C to 75 °C and humidity levels from 10% to 90%, non-condensing.
Deploying the RUTM50 5G router 
Now that we have a better understanding of what the RUTM50 is capable of, let's take a look at a few use cases that really put its features to use.
Smart farming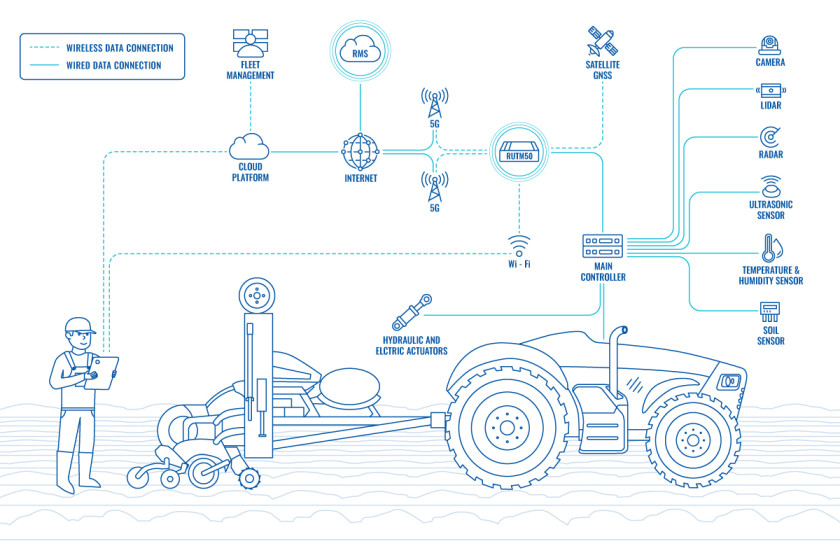 The application of IoT, AI, and automation in the agriculture sector yielded a market size of $13.06 billion in 2022 and is expected to grow to $14.69 billion in 2023, at a CAGR of 12.5%.
Behind these numbers are both the growing adoption of 5G IoT technology and the very real demand for networking solutions that provide higher efficiency and greater output.
Enter: the RUTM50 5G cellular router, capable of connecting a multitude of smart devices housed in autonomous farming tractors to create a secure network of seamless connectivity. The device allows full system automation on one hand, enabling the farming tractors to act autonomously, and effective remote control when needed on the other hand.
This networking solution also takes full advantage of a 5G antenna and the RUTM50's GNSS capabilities, including its NTRIP support for greater accuracy of GNSS data.
Pop-up shops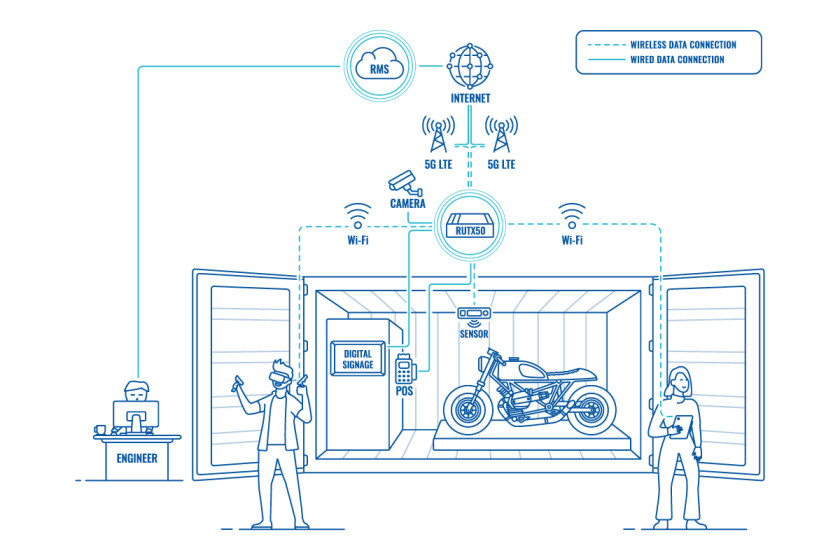 Another area where a 5G router shines is pop-up events and shops. These generate up to $80 billion in annual revenue, despite 44% of pop-up events costing less than $5000 to open. However, their blink-and-you-miss-it nature does present some challenges when it comes to connectivity – ones which restrict what a pop-up shop can do and accomplish.
The RUTM50 is a cost-effective way to ensure high throughput video streaming and virtual technologies, and equally high client engagement to get the most out of your pop-up ventures. 
RV Internet with 5G router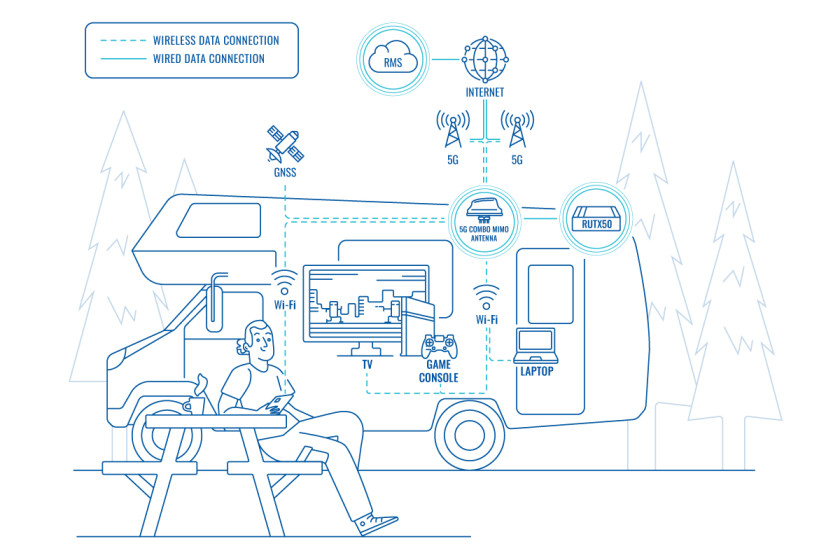 Lastly, let's have a look at how utilising this 5G router can immensely improve your RV Internet experience. Being on the road or in the wild outdoors doesn't mean you can't also enjoy and make use of a robust and reliable mobile RV Internet connection. This allows you to freely work remotely, stream movies, and play online as though you were at home – from anywhere.
Smooth connectivity is hard to come by on the go, however. Especially if you're planning on crossing any borders. While the RUTX50 5G router has been excellent in solving this issue, the RUTM50 can perform just as well, if not better.
Staying ahead in the 5G era
These are only a few examples of real-life industries with a growing demand for 5G IoT technology. To learn more about the RUTM50 and its competitive price and get the most out of this PTCRB and FCC-certified 5G router, we invite you to click below and have a chat with one of our sales representatives.
LIKE THIS STORY?
Share it with friends!
GOT A QUESTION?
We're here to help!