NEW RUTOS MOBILE APPLICATION
The operating system RutOS is one of the many reasons why our clients choose Teltonika Networks devices. Industrial-grade networking equipment requires top-level security and advanced software features for professional applications. We developed this unified OpenWRT-based operating system with multiple industrial scenarios in mind.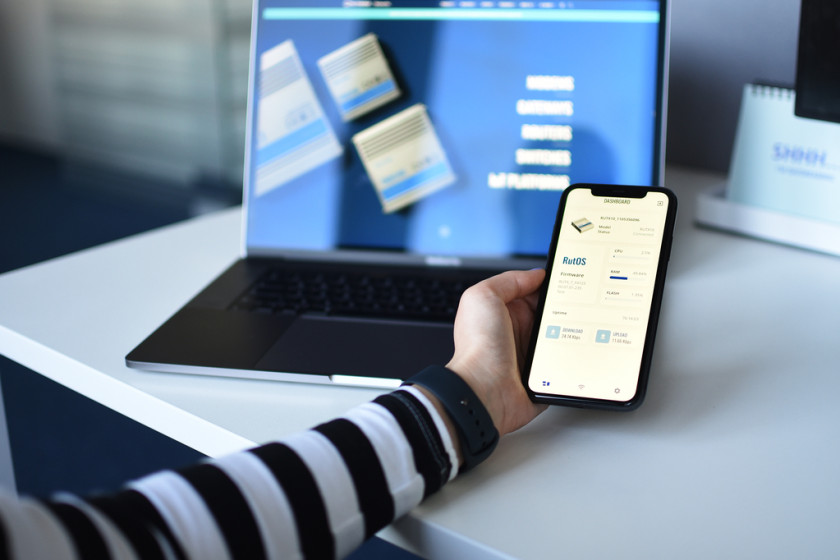 However, another major goal for us was to make sure it was still user-friendly. Our developers continuously implement new functionalities and upgrades to enhance the RutOS effectiveness, reliability, and security. The newly launched RutOS mobile application marks another milestone in our commitment to offering products that are easy to use.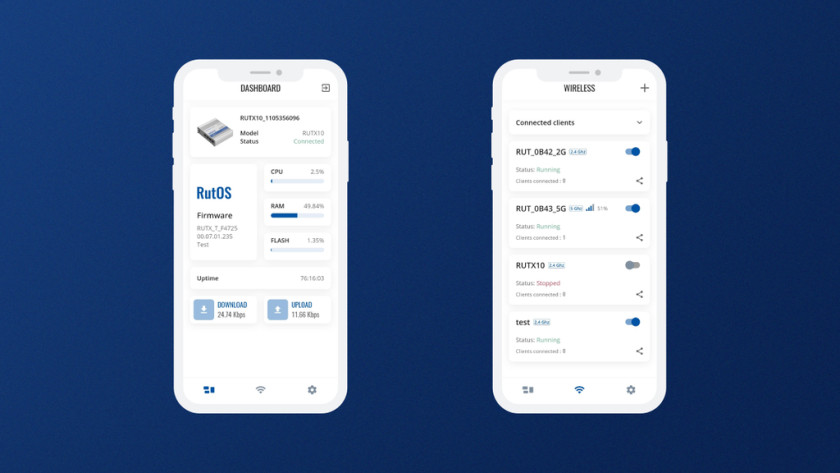 The RutOS application enables users to perform basic tasks on compatible Teltonika Networks devices and monitor their performance. This simple application allows accessing the router's configuration straight from your cellphone to find information about your connected devices at your fingertips. A short overview of the essential data is available on a visual dashboard, where you may see your device model, status, uptime, RutOS firmware version, CPU, RAM, and flash memory usage or upload/download speeds. Besides, the device and Wi-Fi lists allow for simple management of your connected clients and represent various metrics of your wireless network. There you may also edit your Access Points' details, like name and password, or disable it altogether.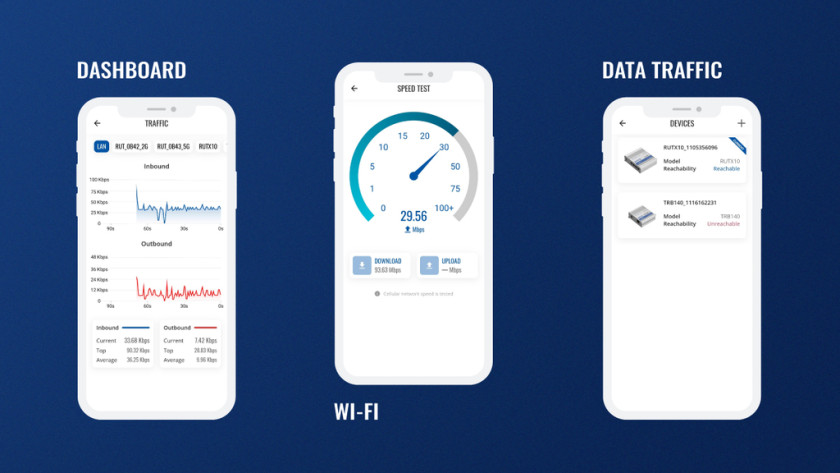 Another useful feature found in the RutOS is the speed test. Users are frequently concerned about their internet performance, and we provide an option to check your download and upload speeds right inside the app. You may also monitor your traffic distribution in a dedicated traffic tab, where the inbound and outbound data is visually represented in diagrams over specific timeframes.

The mobile application also allows conveniently rebooting your connected networking devices. Firmware updates can be downloaded and completed via the RutOS app too. However, the application itself will work only on devices running a RutOS v.07.01 or higher. In essence, this new app will meet the basic diagnostics and setup needs of the users, although, for more advanced configurations, we recommend using WebUI or Remote Management System - RMS.
LIKE THIS STORY?
Share it with friends!
GOT A QUESTION?
We're here to help!